If you're looking to spice up your eye makeup this party season, take a look at our 3 favourite Glamorous New Year's Eve eye makeup ideas. Then, just follow our simple tips to get the look!
New Year's Eve is one of the most exciting nights of the whole year. It's the perfect opportunity to catch up with the girls, down some bubbly and discuss the highs and lows of the year that has been. It's also a great chance to step out of your cosmetic comfort zone and rock a glamorous eye makeup look you normally wouldn't dare to wear. Short on ideas? We've rounded up 3 eye catching New Year's Eve makeup ideas to give you some divine inspiration. Keep reading to see our list and makeup tips to create each look.
#1 Sexy Smokey Eye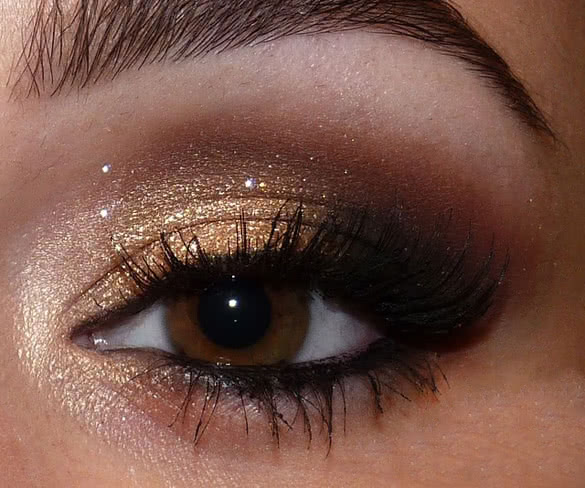 Source (via pinterest.com)
Nothing says glamorous like a smokey eye. However, for many of us ladies, a black or brown smokey eye is a clubbing staple, and New Year's Eve is all about trying something new. To reinvent the classic smokey eye for the biggest party night of the year, all you need to do is change up your colour scheme. If you frequently sport a grey or black smokey eye, opt instead for sultry purple hues. If brown is your colour of choice, mix things up by covering your lid in a gorgeous royal blue.
If you really want to glam things up, you can also try a non-monochrome smokey eye. To achieve the gorgeous multi-hued eye makeup pictured above, just follow these instructions:
Step 1: Apply an eye-primer to prevent creasing, then pack a matte black eye shadow onto your lid. Turn up the outer corner of the shape you're creating slightly to create a cat eye.
Step 2: Select a warm, matte brown eye shadow and sweep it into your crease, blending it carefully with the matte black.
Step 3: Now, choose a similar brown eye shadow, this time with a shimmery finish. Go over the upper border of the matte brown colour, blending the two together in a seamless transition. Add a white or champagne colour along your brown bone, once again blending the colour downwards.
Step 4: Drag a frosty gold eye shadow half way along your lower lash line. If you've got a gold glitter eye liner or loose pigment, apply it over the top for more intense colour. Switch back to your matte black shadow to complete the outer half of the line. Connect it up with the black eye shadow on your lid.
Step 5: Line your waterline with a waterproof black eye-liner, then apply a generous coat of mascara. For a super dramatic look, you can also choose to add false lashes.
This glittering smokey eye is bound to get people talking!